>
Welcome To Georgia, Kids!
Read An Excerpt
Reviews
State Honors
About The Authors
An Author's Life
About The Cover

Travis Watson of Commerce, GA explores the Okefenokee Swamp on page 38.

Jana Parks of Gillsville, GA tell how her grandfather discovered gold in Dahlonega, Georgia 150 years ago on page 12.

Willie Kirkpatrick's revealing description of growing up in Atlanta public housing on page 24 is nothing short of a show stopper.

---
An Author's Life -
Spotlight Centers on
Talented Young Georgians

The media and adoring fans put talented young Georgians in the spotlight.

Twenty-nine Georgia school children suddenly find themselves the center of attention all over the Peach State.

Children featured in Welcome to Georgia, Kids! are in high demand by newspapers and TV and for book signings. Media Play Stores throughout metro Atlanta, Barnes & Noble in Augusta, Serendipity Books in McDonough, and Onyx Entertainment in Gainesville have hosted book signing for the young writers and artists.

TOCCOA, GA For their contribution to Welcome to Georgia, Kids!, Jana Parks of Gillsville and Travis Watson of Commerce were guests of The Mountain Morning Show at News Channel 32, the CBS affiliate in Toccoa. Jana and Travis received a taped copy of the show as a souvenir of their TV debut. . .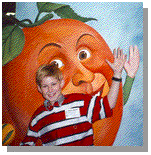 MORROW, GA . . . Giant Welcome to Georgia, Kids! peach beckons fans of Matthew Perello during Morrow book signing.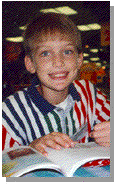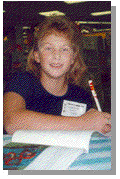 Peter Ralston and Bonnie Brown autograph copies of Welcome To Georgia, Kids!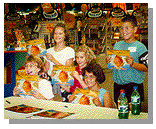 STONE MOUNTAIN, GA . . . Kalissa Grant, Jana Parks, Anna Kimmel, Anna Harris, and Travis Watson turn the tables on photographers by posing upsidedown with copies of Welcome to Georgia, Kids! Oops -- our mistake. It's the book that's head over heels.

---
Welcome to Georgia, Kids!
A Collection of Stories and Art
by Georgia's Children

ISBN: 0-9637477-4-6
8.5 x 11 oblong
50 Pages; Soft Cover

Target Age Level: 4 to 8 years

$10.00
Ask for it at Your Local Public Library
Winners in the statewide Welcome to Georiga Kids Writing and Art Contest competed against hundreds of other young people from around the state. The prize? The honor of simply having their work published in the Welcome to Georgia, Kids! collection. As you will see, these children are very proud of where they live and eager to share Georgia with others.

Thanks the many parents and teachers whose encouragement and support made this anthology possible.

Welcome To Georgia, Kids! began in 1993. Though Kay Borden, journalist, author, and publisher, amost abandoned it, a shapeless idea for a children's book about Georgia by Georgia children persisted.

"The thing nagged at me for almost two years. I tried to walk away from it, but couldn't." "I only knew it was going to be something with kids, for kids, by kids. Then it just hit me, " Borden says.

By 1995, the Olympics was a year away and the eyes of the world be on us. How would children from around the world see Georgia? What would Georgia children like to tell visitors from other states and other countries?

Borden's shapeless idea suddenly became crystal clear. But where would material for such a book come from? A contest. A statewide contest. No easy venture, but it worked. The competition was open to Georgia residents between 6 and 12 years of age. Each contestant wrote a short story about Georgia and created accompanying art. Winning entries were chosen for the best portrayal of positive and inviting Georgia, its people and places.
---
Travis Watson, age 10, Commerce Elementary, Commerce, GA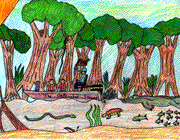 Artwork by Travis Watson


Way down in South Georgia there is a swampy place that is called the Okefenokee Swamp. Okefenokee means ''land of the trembling earth.''

The swamp is always alive with animals. Alligators love the swamp. About thirty years ago there was a huge alligator about twelve feet long. He liked to flip boats over. Experts say that old gator could sneak up and flip it over before anyone could see him. The swamp keepers tried to catch him but he was too sly. He disappeared and no one has seen him since.

They replaced him with a gator named Dino. He has a collar around his neck. He's a lot nicer than that gator of long ago. Why, it you visit the swamp, you might catch a glimpse of the flipping gator or better yet, you better be extra careful if you take a boat ride.

Jana Parks, age 10, Lula Elementary, Gillsville, GA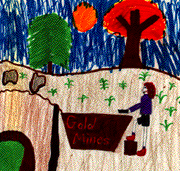 Artwork by Jana Parks


Come to Georgia and find gold. My great, great, great, great, great grandfather did just that over 150 years ago. My great grandfather five generations ago was digging for gold. With every pick and shovel full of soil, Grandpa Ben wiped the sweat and prayed for gold.

After several months of labor, Ben nearly gave up. He got so angry, he kicked a rock so hard he burst his toe and the rock went flying through the air. With a loud holler, he bent over to grab his toe. Suddenly he saw something sparkling. He rubbed the dust off of the sparkling object and looked closer and sure enough it was gold. Ben Parks was one of the first men in the United States to discover gold.

Ben is honored even today in Dahlonega, a small town in North Georgia with a lot of small, old fashioned buildings. You park your car and walk from place to place. There are a lot of places to gold mine.

When I went to mine, they took us down in the mines and showed us the picks, shovels, lanterns, chisel, car, and track. Then they took us out of the mine and gave us all a pan full of sand and we panned for gold. Even though I've never been as lucky as Ben, I still love to try my hand at panning for gold.

When you go to Dahlonega, don't forget to look for Grandpa Ben's picture in the gold museum where you can observe some of Ben's actual possessions. Enclosed in a glass container are his scratched spectacles and his worn and tattered Bible. The family still has Ben's cane and when I touch that cane, I can feel the perspiration that runs down it while he worked digging for gold. When I hold that old bent cane, I feel the determination of my ancestor and I try harder even today in everything I do.


Willie Kirkpatrick, age 9, A.D. Williams Elementary, Atlanta, GA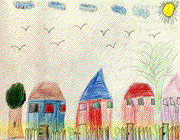 Artwork by Willie Kirkpatrick


Bowen Homes is one of Atlanta's best kept secrets. Bowen Homes is a Public Housing community in Atlanta, Georgia. Bowen Homes has its own set of problems. But I have been raised by my family to see the positive things in my community.

When I wake up in the morning I see sunshine, beautiful skies, and the wonderful, beautiful place I live in. Believe it or not, Bowen Homes has everything you need. The local library is on the corner. Next to the library is a grocery store. There is even a medical center in the middle of my community and a day care center. There is a park to play in just past the school.

The next best thing in my community is the school. If I could I would go to school 7 days a week. That's just how much I love school. The school in my community is clean, and I have a lot of fun learning at school. Anyone visiting Atlanta should take a peek at my community. I'm not proud of all the things that go on there, but it is landscaped so beautifully and the people are very friendly.
Although I live in one of Atlanta's Housing Projects, it's the place I call home. My Mom always says "Everything over here is right at your finger tips." And it's true, even the bus and major highway are within a half mile. There are a few other cultures in my community and we all get along well. I believe it's not where you come from that counts but where you're going. So I know I'm on my way to bigger and better things.


---
"We worked hard on these . . . my students and the school system are interested in the results."
Marty Prine, teacher, Thomasville


"Enclosed are entries for our school . . . Thank you for the opportunity."
Renee Smith, teacher, Avondale Estates


" . . . charming book . . . Throw your conceptions out the window and look at Georgia through a child's eyes." The Athens Observer, Athens, GA


"I think this book is a great idea!" Shirley R. McMillan, second grade teacher, Adel

"We're reading it during our unit on Georgia." Sue Prichett, kindergarten teacher, Lilburn


" If you're not already convinced that Georgia is a fine place to live, just take a gander at Welcome to Georgia, Kids! . . . It's a real winner." Southern Lifestyles Magazine


Features in 2003 Feb issue of Southern Living

| Return to Top |


---
State of Georgia Honors Welcome to Georgia, Kids! Authors
News of Georgia's positive image as portrayed in Welcome to Georgia, Kids! hasn't gone unnoticed by the state's highest elected official. In a personal letter to each child, then Georgia Governor Zell Miller expressed his appreciation for their "love for Georgia," and designated each featured child a Young Ambassador of Goodwill for the State of Georgia.

Other state officials have taken notice as well. While still a state representative, current Governor Roy Barnes officially introduced Welcome to Georgia, Kids! to the governor's office, a copy of the book is on display at the Department of Industry, Trade, and Tourism ("a wonderful collection" says Visitor Information Services Director Lynn Manley), and State Rep. Gail Buckner of Jonesboro attended a book signing.

Each of the children featured in Welcome to Georgia, Kids! received a personal letter from then Govenor Zell Miller.

STATE OF GEORGIA
Office Of The Governor
Zell Miller, Governor

June 28, 1996

What a wonderful contribution you made to "Welcome to Georgia, Kids!"

To be included in this collection of stories and art by Georgia's children is something that you can be proud of your whole life long and that you will want to share with your children. It celebrates you, both as and artist and a wordsmith, and it demonstrates something that is very important to me -- your love for Georgia.

I am pleased to designate you as a YOUNG AMBASSADOR OF GOODWILL FOR THE STATE OF GEORGIA, and I wish you every possible success and happiness in all your future endeavors.

With kindest regards, I remain
Your friend,

Zell Miller

| Return to Top |
---
About The Authors

These 29 children from all over the Peach State were winners in the statewide Welcome to Georgia, Kids Writing and Art Contest. The listing includes each featured child's school and Georgia hometown.

Kalissa Nicole Grant / Fellowship Christian Academy / Roswell

Matthew Joseph Perello / Oak Grove Elementary / Peachtree City

Bonnie Brown / Hamilton Elementary / Hartsfield

Candler Hobbs / Evoline C. West Elementary / Newnan

Heather Merkle / Peachtree Elementary / Lawrenceville

Kathryn Landers / Kilpatrick Elementary / Jonesboro

Jana Parks / Lula Elementary / Gillsville

Emily Johnson / Ringgold Middle School / Tunnel Hill

Richard Anderson / Boddie Middle School / Milledgeville

Ricky Rogers / Eastside Elementary / Dalton

Peter John Ralston / home school / Hiram

Brett E. Fowler / Fair Street Elementary / Gainesville

Caroline Hagedorn / Hagedorn School of Advanced Academics / Atlanta

Willie Kirkpatrick / A.D. Williams Elementary / Atlanta

Briyanah C. Richardson / Cedar Grove Elementary / Decatur

Kyle Shaver / Garrison Pilcher School / Thomasville

Mimi Naja / Wesley Lakes Elementary / McDonough

Carrie Sidwell / Jonesboro Middle School / Jonesboro

Anna C. Harris / Martinez Elementary / Martinez

Caitlin Smith / Fair Street Elementary / Gainesville

Anna Kimmell / Avondale Elementary / Avondale Estates

Joanna Papy / Juliette Low Elementary / Savannah

Heather Reid / Echols County Elementary / Lake Park

Cari Jo Griffis / Satilla Elementary / Douglas

Travis Watson / Commerce Elementary / Commerce

Stephanie Warlick / Cook County Elementary / Adel

Katie Armstrong / Sims Elementary / Conyers

Jennie E. Row / Peachtree Elementary / Norcross

Hayden Rebecca Hamby / Irwin County Elementary / Ocilla

| Return to Top |
---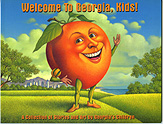 The cover art for Welcome to Georgia, Kids! was illustrated by renowned American artist Gary Overacre. His vision of Georgia, from the lush mountains in the north to a modern Atlanta skyline to the state's coastal beauty, is puncuated by a smiling storybook peach.

Gary Overacre grew up in Savannah, graduated from the University of Georgia, and now makes his home in metro Atlanta.

For more, visit www.GaryOveracre.com.

| Return to Top |