---
---
This issue is sponsored by money, bankroll, boodle, bread, bucks, cabbage, capital, cash, dinero, dough, ducats, funds, gravy, green, green stuff, greenback, jack, kitty, long green, loot, moolah, pesos, scratch, skin, treasure, wad, wage, wampum, wealth, wherewithal, collard greens and black eyed peas, and the Almighty Dollar, amen.
We all need a lot of it
to pay for last month.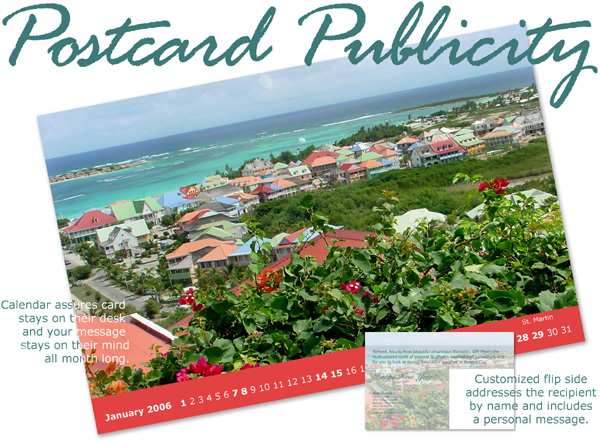 Here's a smashing idea the next time you want to follow up with an important new contact: send them a big, beautiful, personalized postcard - gorgeous color photo and all - for less than a cup of coffee. That's right, what if you could send one postcard to one prospect and personalize it for $1.30? Would that be a ridiculously inexpensive yet altogether impressive way to get your prospect's attention? Well, you can and it would.

Digital technology makes it possible and economically feasible to do just one. Before, sending a single card or even a few hundred was cost prohibitive. Now, there's no traveling to a printer or the post office required, just a name, an address, a message, and a few mouse clicks.

Premium Postcards by the United States Postal Service is a high quality yet economical way to follow up, say howdy, and remind prospects you're thinking of them. And the beauty lies not just with the picture on the postcard but the price to print and mail a single card.

Publicity means getting the right kind of attention on a regular basis and adding Premium Postcards to your marketing mix is an inexpensive way to make contact and let the prospect know you're thinking of them.

The United States Postal Service has teamed up with AmazingMail to create an online source for cards, printing, and mailing all from your computer. And all very inexpensively. You supply the card design (we can help with that) and mailing list. Enter contacts one at a time or upload CSV-formated lists. If you're not sure how to upload your list, AmazingMail will format it correctly and upload it for you free.

Next time you want to follow up with a single contact or mailing list, the following four steps will help you create a postcard that will get noticed.

1 WRITE YOUR MESSAGE - Think of your postcard as a highway billboard; you have only a brief moment to get their attention and deliver a short, compelling reason to learn more. Include your web address and phone number so they can. You'll get a better response if you write your message in a friendly, personal tone rather than like an ad. Tell a story rather than try to sell. Don't try to tell the whole story, there's not enough room. Remember, the idea is to use postcards to make regular contact so when they need what you can do for them, they will think of you.

2 DESIGN - Cards already come easy to handle. Design it to be easy to read and keep. An uncluttered design with printing large enough to read and nice graphics will give your message maximum exposure. Include a calendar or a deadline to save on a product or service they need and the card will linger on your prospect's desk longer. Quality postcards reflect a quality business. Though elegance in layout and graphics may not be necessary for your market, your postcard to an upscale market should match.

3 MAILING LIST - Don't underestimate the importance of your mailing list. Make sure postcards go to prospects, such as existing customers, likely to be interested in your offer. For larger mailings, acquire customer lists from non-competing businesses that sell to your target market, prospects who previously requested information about products or services similar to those you offer. These lists are available from mailing list brokers.

4 TIMING - Plan so your postcard arrives on Tuesday or Wednesday. Mail volume is usually lighter on those days so your postcard will have less competition for your prospect's attention. Avoid Monday deliveries, usually the biggest mail day and a busy time for most people.